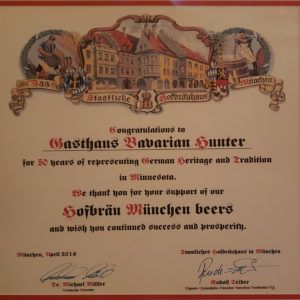 Stillwater, Minn. (August 31, 2023) -- In just three months following its Grand re-opening, the Gasthaus Bavarian Hunter is breaking records.
Since its inception in 1966, only imported beer has poured thru the taps of the Gasthaus. One such German-brewed beer is Hofbräu München. Tom O'Brien of the Nevada-based importer Hofbrauhäus Of America, LLC, flew to Minnesota from the East Coast earlier this month stating, "the Gasthaus is selling more Hofbräu beer than anyone else in the entire State of Minnesota." The Midwest's Regional Manager for Hofbräu, CJ Leinenkugel, joined O'Brien on the visit. "We're grateful to be a part of the entire Gasthaus experience," says Leinenkugel, "and it's exciting to have authentically brewed beer served in a setting that transports you to the area in Bavaria where Hofbräu is made." Artisan Beer Company is Hofbräu America's distributor for Gasthaus. "In a very short time," says Artisan's sales representative Matt Marsolek, "Gasthaus has become the second largest account in the East Metro, and they sell just one of our dozens of product lines!"
Gasthaus also sells Paulaner and Hacker-Pschorr beer, both major competitors to Hofbräu. "No one is selling more Paulaner/Hacker-Pschorr beer Minnesota than Gasthaus," says Joe Goodin of Paulaner USA, the New York importer of the Munich-based Paulaner and Hacker-Pschorr lines. Says Nate Strong of Hohensteins, Inc., the distributor of Paulaner and Hacker-Pschorr in Minnesota, "Gasthaus has always been a valuable partner, and has already become one of our largest on-sale accounts in the state."
There are six major breweries in Munich. Paulaner, Hacker-Pschorr, and Hofbräu make up half of them. "As for the other three Munich breweries," says Gasthaus proprietor Jimmy Martin, "I understand that Augustiner does not export kegs to the United States, Löwenbräu is manufactured States-side, and Spaten no longer sells kegs at retail in Minnesota." When asked why Gasthaus and its beer line-up is so popular, Martin replies, "Our partnerships with Paulaner and Hofbräu are not accidental. In order for Gasthaus to deliver this unique experience, serving Paulaner, Hacker-Pschorr, and Hofbräu alongside traditional fare made from scratch daily is a necessity. Being here is like visiting a Bavarian lodge run by a hunter who serves his close friends and family the pork and vegetables he processed that morning from wild hogs and potatoes he harvested the evening before. It's an intimate, casual, and laid-back experience."
This upcoming Labor Day, Gasthaus Bavarian Hunter is putting on its Waldfest from noon to 6pm. Patrons attending this local, outdoor party in the pines are encouraged to enjoy Gasthaus' specialty imported beers. Gasthaus is open Wednesday thru Sunday from 11am to 8pm, and reservations are strongly encouraged.
# # #